Top 10 Photos and Video of Maritime Disaster and Destruction in 2011
1. Sailboat Dismasted by Tanker
2. Barge Hoist Fail
3. Luxury Boat Sinks in China
On September 29th, a highly anticipated luxury leisure boat in China nearly sank immediately after the vessel was launched. The vessel was meant to bring joy to the villagers. Instead, it brought shame:( Read:
Luxury Boat Launches, Sinks Immediately [VIDEO]
4. TK Bremen Grounded in France
The Maltese-flagged TK Bremen, a cargo ship traveling along Northwest coast of France, ran aground in southern Brittany (that's in France) in high winds and heavy seas. The vessel reportedly leaked over 200 of fuel oil, threatening local beaches and wildlife. The owners decided that breaking her apart is the best course of action. Read:
Incident Video of The Week – TK Bremen Grounded in France
5. F/V Sparta Stuck in Antarctica
The Russian fishing vessel
Sparta
with 32 crew were stranded (and sinking) in Antarctic ice approximately 2,000 nautical miles SE of New Zealand, pretty much the most remote place on earth. After 10 days stranded, an icebreaker dispatched by Sparta's owner reached the vessel and is assisting in repairs and escorting them out of the ice. Read:
Sparta Incident Coverage
6. M/V Rena
A salvor is lowered onto the deck of the M/V Rena, stuck on the Astrolabe Reef off New Zealand since October 5th.
Read: Rena Incident Coverage
7. Pemex's Flotel JUPITER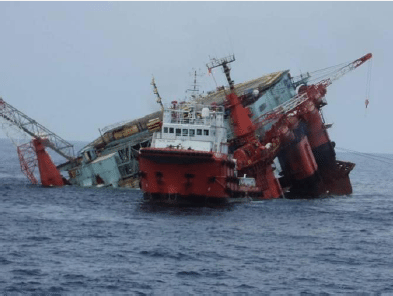 8. Barge Upended
9. When Navies Fire Back
On October 7, 2011, EU NAVFOR warship FGS KOELN successfully disrupted a suspect Pirate Action Group's (PAG) supply boat, a whaler, operating in the Somali Basin about 200 nautical miles East of Tanzania. There's more where that came from if you continue reading. Read:
When Navies Fire Back – Top Photos of Pirate Skiff Destruction
10. Tug ARIES sinks in Bering Sea
On June 26, 2011, the Tug Aries sank in the Bering Sea, about 109 miles East of St. Paul Island. After the crew managed to get from the sinking tug to the barge they were towing, Captain Doug Pine pulled out his iPhone and began taking footage of the rescue. All four members of the crew were safely rescued by the USCG
@
Tagged @ Kapal Tenggelam
Tagged @ maritime news